Description:
The industrial aluminum profile is alloy material mainly made up of aluminum, we use aluminum bar, after hot melting and squeezing so that it could be reshaped into different cross-section shape. Thus it is also called industrial aluminum alloy extrusions. The main component is aluminum.
Features:
High performance, high precision, energy-efficient, environmental protection.
Operation:
Mainly applied in automatic machinery, models made by different companies according to their own mechanical facility request, for instance, pipeline conveyor, hoister, glue dispenser, detection equipment etc. Most used in electronic machinery business and clean room.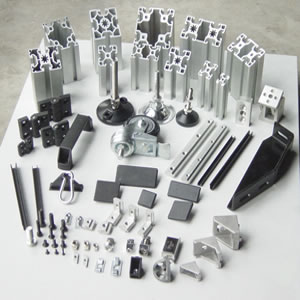 Industrial Aluminum Profile
Products Parameter:
1. Executive standard based on GB/T5237.1-2004
2. For most Aluminum Profile, there is no clear model difference, the produce is based on the actual drawing from customer.
Package and Delivery:
1. For domestic market, the packaging is mainly made up of carton and recyclable iron pallet.
2. For external market, the packaging is mainly made up of carton and wooden pallet. 3. All the inner packing is made by EP paper.
4. For internal market, the goods would be deliveried by truck, directly to client's industry or the assigned storage.
5. For external market, the good would be deliveried by container, according to client's unloading condition, we can load and transport with both the top shut and top open.
6. With a good loading and transporting experience, we guarantee the good will arrive safe and sound.

We are professional manufacturer and supplier of industrial aluminum profile in China. With 15 years experience of production, selling, and service, we can design process and produce products with meeting needs of customers and offer OEM service. Our factories produces 1million meters wool fabric, 10,000 tons chemical yarn, 40,000 tons tinplate, and 50,000 tons aluminum profile. Wherever in Europe, North America, South America in the Middle East or in Africa or south-east Asia have our customers. The product has won great favors from vast customers with its excellent quality. If you need industrial aluminum profile, please contact us.
Related products
Tinplate Coil
Application in painting, chemical battery, electric cable and other industries. Packaging:Anti-rust paper, with corner protection. Sheets or coils could be made for special demands...

Aluminum Solar Panel Frame
Aluminum frame for solar panel is made up of photovoltaic solar panels components and fastened by aluminum alloy extrusions. Solar PV stents, is a component in solar PV power...