Description:
The polyester viscose yarn is mainly made up of mucilage glue, polyester and yarn, it's a mixed type of fibre, also called Chenille yarn. The use of polyester viscose yarn endows home textile a thick feeling, makes it upmarket, soft, downy and draping etc.
Application:
Polyester viscose yarn could be made into slip cover, bedspread, blanket, carpet, curtain and other indoor adornments.
Operation:
Knitting yarn requires twist small, good uniformity yarn, and made them into thick, flexible, warn knitting clothes. Weaving yarn requires light, pure, good uniformity yarn.
Maintenance:
Yarn quality could be influenced by environment, so the Test validity for cotton yarn is one year in the north, and half a year in the south. If the validity is expired, the yarn must go through a test, including mildew, worm-eaten, water stain, contaminate, contaminate etc.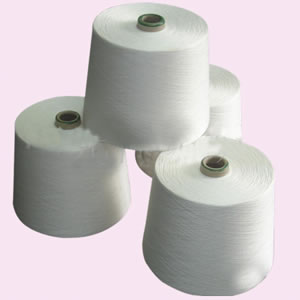 Polyester Viscose Yarn
Products Parameter:
We use "S" stand for the fineness of yarn.
S= 1 pound of cotton yarn ∕ 840yd (under certain moisture regain)
Packaging and Delivery:
The inner package for polyester viscose yarn is plastic bag, with the information of manufacture, product name and specification, registered brand name, grade, weight, batch number, yarn volume and date of production etc. The outer packing is mainly made of carton and plastic woven bag, the package must be tidy, dry, firm and suitable for long-distance delivery.

We are professional manufacturer and supplier of polyester viscose yarn in China. With 15 years experience of production, selling, and service, we can design process and produce products with meeting needs of customers and offer OEM service. Our factories produces 1million meters wool fabric, 10,000 tons chemical yarn, 40,000 tons tinplate, and 50,000 tons aluminum profile. Wherever in Europe, North America, South America in the Middle East or in Africa or south-east Asia have our customers. The product has won great favors from vast customers with its excellent quality.
Related products
100% Cotton Yarn
100% Cotton Yarn is processed by cotton fiber. After plying, it becomes cotton yarn. Cotton yarn can be used as weaving yarn and kitting yarn; especially, the combed yarn can produce the textile ...

Cotton Polyester Yarn
The cotton polyester yarn is mainly made up of cotton and fiber, after spinning and joint stack. The main component of this cotton polyester yarn is cotton and polyester ...